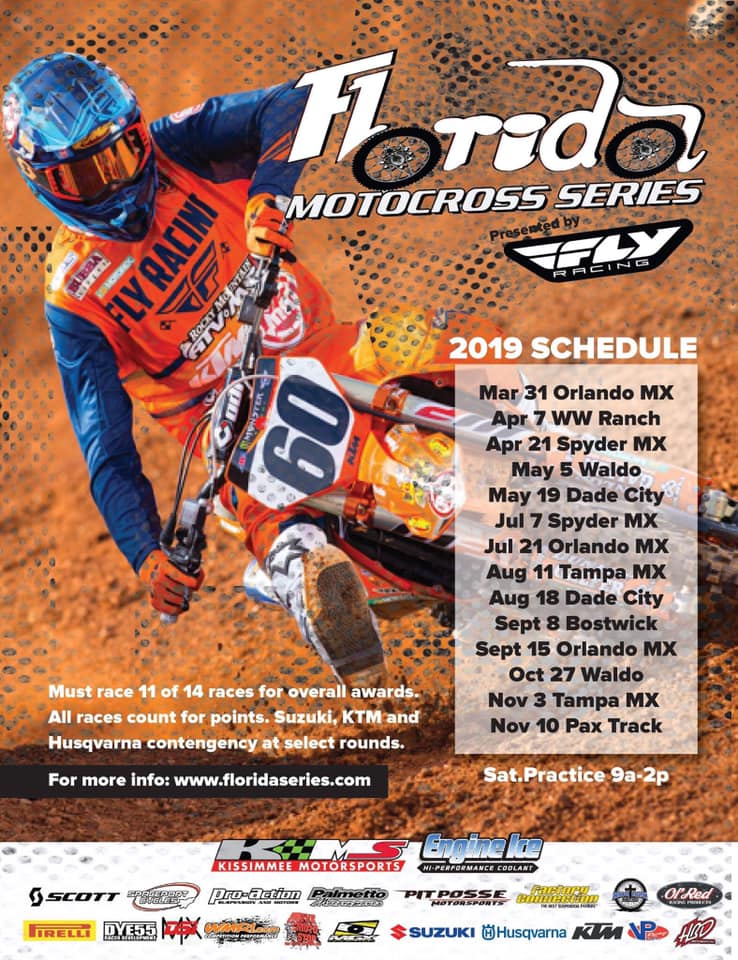 2019 FLORIDA MOTOCROSS SERIES
MARCH 31ST ORLANDO MX*
APRIL 7TH WW RANCH*
APRIL 21ST SPYDER MX*

MAY 5TH WALDO MOTORSPORTS**

MAY 19TH DADE CITY RACEWAY*
JULY 7TH SPYDER MX
JULY 21ST ORLANDO MX
AUGUST 11TH TAMPA MX

AUGUST 18TH DADE CITY RACEWAY
SEPTEMBER 8TH BOSTWICK CREEK

SEPTEMBER 15TH ORLANDO MX PARK
OCTOBER 27TH WALDO MOTORSPORTS
NOVEMBER 3RD TAMPA MX
NOVEMBER 10TH PAX TRAX
PRACTICE SATURDAY BEFORE EACH ROUND 9-2
*FLORIDA SERIES AND FLGA SERIES RACE
**FLORIDA SERIES / FLGA SERIES / BOSS SERIES RACE
MUST RIDE 11 OF 14 RACES FOR OVERALL AWARDS. ALL RACES COUNT FOR POINTS.
SUZUKI / KTM CONTINGENCY AVAILABLE AT SELECT ROUNDS
---
2019 FLORIDA WINTER SERIES
JANUARY 6TH – ORLANDO MX PARK
JANUARY 20TH – WW RANCH –

FREE RACING FOR 50'S!!

No RACE entry fee for 50cc bikes! Standard rates apply to get in the park and for Saturday practice but RACING is FREE for 50's this weekend!! THANK YOU WW
JANUARY 27TH – WALDO MX
FEBRUARY 3RD – SPYDER MX
FEBRUARY 9TH & 10TH – ORLANDO MX PARK –

This round will be 2 days of racing, 2 long motos. PRACTICE FRIDAY FEBRUARY 8TH 9-2!! All classes will pay $500 except beginner classes. Bbq and awards will follow races on the 10th.



PRACTICE SATURDAY BEFORE EACH ROUND 9-2, EXCEPT FINAL ROUND PRACTICE WILL BE ON FRIDAY 9-2
---
2018 FLORIDA MOTOCROSS SERIES

APRIL 15th – BOSTWICK CREEK MX**
APRIL 22ND – ORLANDO MX PARK*

MAY 6TH – WALDO**
MAY 20TH – REDDICK*
JUNE 17TH – FLORIDA CYCLE PARK
JULY 1ST – PAX TRAX
JULY 8TH – SPYDER MX

AUGUST 12TH – BARTOW MX

AUGUST 19TH – DADE CITY*
SEPTEMBER 2ND – ORLANDO MX PARK*
SEPTEMBER 9TH – WW MOTOCROSS PARK* (LOCATION CHANGE FROM BOSTWICK CREEK)

NOVEMBER 4TH – TAMPA MX
NOVEMBER 11TH – WALDO*

DECEMBER 16TH – RAIN DATE
*FLORIDA SERIES AND FL/GA SERIES RACE
**FLORIDA SERIES, FL/GA SERIES AND BOSS SERIES RACE
SUZUKI / KTM / HUSQVARNA CONTINGENCY AVAILABLE AT SELECT ROUNDS